The digital age has completely revolutionised marketing.
Today's businesses are spoiled with endless strategies, and while it's never been easier to entice customers and clients with social media campaigns, it's also never been more competitive. Some marketing tools are short-lived, and others don't really live up to the hype.
However, one legendary marketing tool has stood the test of time and delivers as much as ever: email marketing. 
With all the new and ever-evolving ways to grab your audience's attention, you may be forgiven for drifting away from email marketing tools in search of something shiny.
Think mailing lists are a thing of the past? Think again.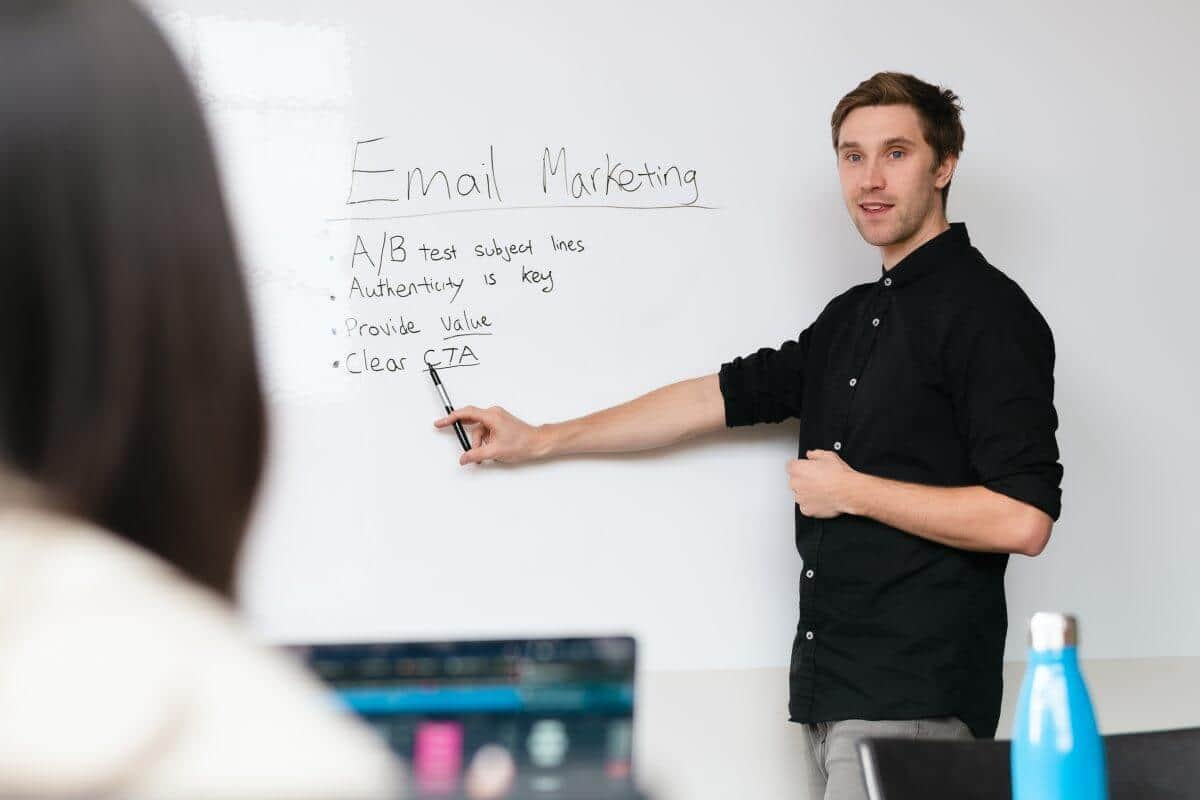 Quick Stats to Prove Email Marketing Still Dominates
We've all adjusted how we do things in the past two years.
Since the pandemic, we've seen more than 40% of marketers cut email budgets, but is this the right call?
At the beginning of the pandemic, the global email marketing market was valued at $7.5 billion US, and research shows a projected increase to $17.9 billion before 2027.
That's more than a $10 billion US jump in seven years, and the stats back it up!
A recent Statista report revealed that more than 306 billion emails are sent and received every single day, a number that is expected to reach closer to 400 billion by 2025.
So, who's sending all those emails?
Almost three-quarters of Baby Boomers surveyed by Bluecore thought that email is the most personal channel to receive information from brands, and they're not the only ones.
Well over half of Gen X (72%), Millennials (64%) and Gen Z (60%) said they preferred brands to engage with them via email too.
After many new waves and trends, email marketing is as relevant and reliable as ever.
5 Reasons Email Marketing Remains Indispensable in 2022
It's simply hard to beat the level of engagement that email marketing offers.
Here we have summed up a handful of reasons why email marketing is so valuable to businesses.
1. Personalisation
Sure, generic email blasts are a thing… but they should also be a thing of the past!
Email marketing allows businesses to entirely customise content for target audiences, and that's precisely what you should be doing to make the most of it.
Personalised email marketing can look like making your content specifically relevant to the customers' buying journey and shopping behaviours.
Utilising marketing tools that allow you to track data and identify patterns can be really helpful in getting to know what your visitors want.
People who receive emails that are targeted to their needs are more likely to be pushed further down the buyer journey.
2. Seamless integration
Yet another advantage to email marketing is that it integrates seamlessly with other online platforms.
Combining email marketing with social media channels like Facebook, Instagram, Twitter, LinkedIn and TikTok (just to name some) can achieve a powerful online synergy.
For example, emails can include a social icon that prompts readers to follow more content there.
Executed well, your email marketing has the power to lead customers down a long buying path.
3. Cost cuts
We know there are endless engaging ways to market to your audience, but email marketing is more cost-effective than most of them.
Not only that, email is far more simple and, therefore, efficient.
Appealing visuals and top-notch content that appear on a phone screen are what audiences want.
We've already covered some things you need in an email, but what's it saving you – AKA, what don't you need?
No ad production. Not only does this mean no production crew, it means no printing and a way lower advertising budget.
4. Brand loyalty and connection
Effective email marketing campaigns can successfully boost brand awareness amongst your customer base.
Getting informational content across via email marketing is super easy, making it an ideal opportunity to connect.
We know customers are more likely to trust a transparent brand. Likewise, your audience can better understand and connect with you when they know what you stand for.
That's why long-term email marketing strategies should share valuable information about your brand's mission, values and products with targeted groups.
Remember, consistency is key (as with any ace marketing strategy)!
You want to keep your audience wanting that next email.
5. Highest ROI
We've saved the best till last here.
When it comes to getting bang for your buck, businesses just can't go past email.
According to Litmus, four out of five marketers reported they would give up social media over email marketing and with a 40x return, it's no wonder why.
Email Marketing Best Practices
When done right, email marketing can play a huge role in your overall strategy, complementing and working with other marketing tools to reach your audience.
Here are our top results-driven best practices for email marketing:
Segment Your Email List
Segmenting your audience with demographic and behavioural factors is just as important for email marketing as with any other strategy.
And research shows marketers who segment campaigns see up to a 760% revenue spike.
You definitely don't want to be clicking 'send all' on one huge list of subscribers!
Audit Your List
Regularly reviewing any marketing strategy is crucial. You want to keep your email list healthy with active subscribers.
Your audit can investigate and remove email addresses that have bounced or been reported as spam.
Auditing your subscriber list will give you a clear picture of what's working and what's not.
Businesses can utilise this data to determine how future campaigns can be improved.
A/B Test Your Email Campaigns
Not sure what A/B testing emails involves? We got you.
This testing involves sending a different variation of the same email to separate sets of subscribers from determining which variation drives the best results.
This could simply look like sending alternative subject lines to reveal which campaign generates more opens. Or you could send two different designs — maybe the red EDM will grab more attention than the blue one, you won't know till you try.
The test results will reveal a winning formula that can be sent to the rest of your list and be the data springboard for future decisions.
Focus Your Campaign on Your Audience and Their Needs
People are receiving more emails daily (many left unread), but we know personalised emails get higher open rates!
A personal touch, such as adding the recipient's name to the subject line, can be a powerful point of difference.
When things get complicated, it's usually best to go back to basics. We can trust things that we know work well.
It's a fact: email marketing still dominates as one of the most effective marketing strategies available.
If you only take away one thing from this article, let it be this: done right, email marketing can promise you a whopping 4,200% ROI.
The world of email marketing is competitive and saturated, so it's essential to stay current with trends.
These email marketing tips are simple in theory but are not always easy to practise. Are you struggling with your email marketing campaigns this year? Get in touch now to claim your FREE strategy session worth $1200?